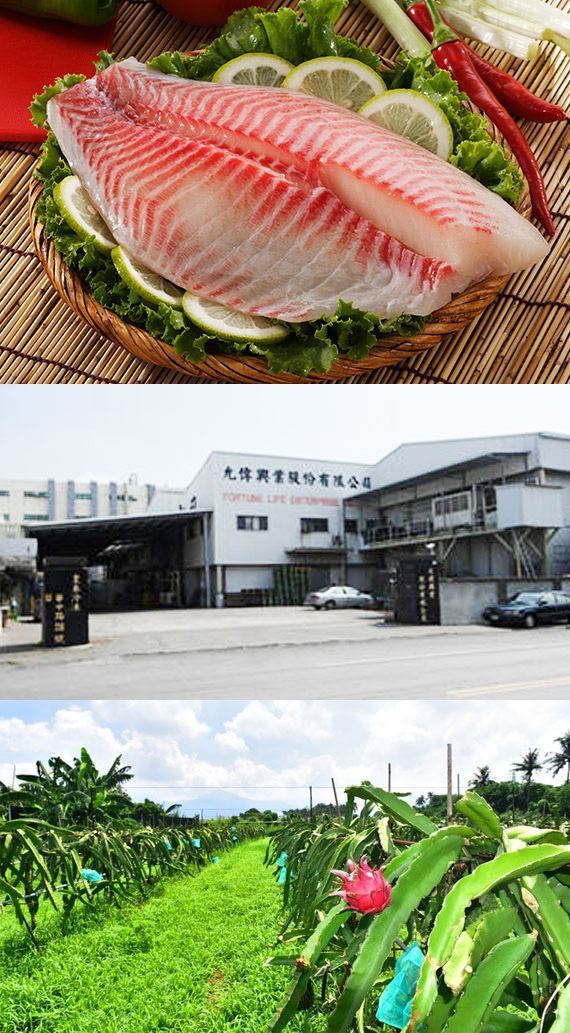 About Fortune Life
Since our establishment in 1979, we specialize in exporting seafood and agricultural products. We have been twice graded as the top 3 hundred Taiwan exporters. To comply with the fact of increasing take-out meals, we start to develop the frozen prepared foods, with inviting the worldwide food specialists' continuous research on the gourmets from 1988. In 1993, we set up the processing lines in both Taiwan and Ranot, Thailand, marketing our products as brand "Fortune" internationally.
For the domestic marketing, our Taiwan HQ is in charge of products production, which covers frozen prepared foods, and seafood. The main wholesaler marketing channels are through lunch boxes, catering, and Key Account are through Warehouse store and hyper-market, with the brand "Convenient Shop." Our major products are including microwave noodles, fried Spanish mackerel, fried shrimp rolls, and various ready-to-eat dishes, such as seasoned seaweeds salad, seasoned cuttlefish slice, and sushi toppings.
For the exporting sales, the main items are seafood, produced by Thailand and Taiwan respectively. From Taiwan HQ, we export frozen sashimi fish fillets, ready to eat products (seaweed salads, Chuka Ika Sansai, Tobikko&Massago etc) and "Convenient Shop" noodle series. Our export markets cover all over Korea, Japan, USA, Canada, Venezuela, Hong Kong and EU.
Fortune Frozen Foods(Thailand) CO., LTD. specializes in black tiger shrimps, Vannamei shrimp, and processed shrimp products, of which origin aqua-farms are near to our processing site. With the abundant and fresh shrimp sources, we assure our clients the top freshness and quality.
Recently, in addition to shrimp products, we introduced the sashimi -grade fish products into Thailand factory and look forward to reaching the turnover U.S. dollars 45 millions.
In 2008, we completed the factory expansion on a large scale, which happen in fish and food processing lines, including the new fish processing line on 1st floor and whole plan for prepared food processing line on 2nd floor. Thus, our capacity has increased by 2~4 times. We import and accommodate one advanced foaming-wash sterilizer to ensure the strict sanitary requirement. We are proud to pass,
There are increasingly huge demand fm Korean market so it is very important for inventory control of Non-CO treatment fillet. And the emphysis of product temperature control & First come-First out management has made our brand well accepted by customers . Surely there were few complains about our products due to poor meat color. However we have succefully lowered the % being claimed by complete production & supply system integration.

In September 2008, the strict factory survey by EU FVO deputy, accompanied by the Taiwan Bureau of Standards, Metrology and Inspection.
2009 Set up new equipment for tuna processing and devote ourselves in processing non-co sashimi tuna slice.
2010 Set up a new screw IQF freezer and it raises the production capacity 3 times than before.
2010. Set up Shanghai office, King Giant (Shanghai) Trading Co., Ltd., to expand China market.
In 2013, Fortune Biotech was established to focus on the research of FSE probiotics, and we used under-utilized aquatic byproducts from Fortune Life Enterprise CO., LTD to develope FSE Bio Aid, suggesting that the product will reduce the production cost of aquaculture feed.

Besides the usage of fisheries, our new department Su-Tsai farm also uses FSE Bio Aid while feeding plants and animals, and we found out that FSE Bio Aid also has a great impact on agriculture and animal husbandry. With the administration of FSE Bio Aid, crops grow faster, promoting the yield, and boosting disease resistance. As for poultry and livestock, the growth rate, feed efficiency and immunity against diseases also improve.